You love your retirement life, but at The Delaney at Lake Waco, it gets even better! With all our incredible services and amenities and the benefits of maintenance-free living, you'll have more time and even more opportunities to pursue the things you really want to do. In other words, independent living in Waco, TX at The Delaney simply allows you to be you.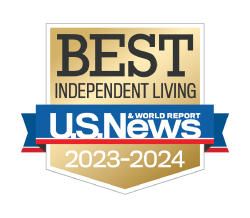 Activities
Stay fit
Keep your body moving in our fun classes and stay in shape by using our fully equipped fitness studio.
Stay Connected
Enjoy our full calendar of social, educational and recreational activities, both on our campus and in the greater Waco area.
Our Embrace the World program brings you the adventure of world travel through enjoying hands-on experiences with the culture, foods, and entertainment of a different country each month.
Stay Inspired
Indulge in your favorite pastimes and learn new skills in our arts and crafts studio.
Stay Social
Meet friends for coffee in the morning and enjoy happy hour drinks in the afternoon at the bar. Cozy up in front of the fireplace in the community living room for great conversation and laughs.
Amenities
Restaurant-style, chef-prepared dining with a delightful menu, ranging from gourmet cuisine to bistro fare
On-campus, full service, hair salon and spa to keep you looking and feeling your very best
Wellness programs, including fully equipped fitness studio, to help you live your best life
Well-appointed art studio
Access to higher levels of care, such as assisted living and memory care, at our on-campus residences at The Delaney
The Great Hall, a perfect place to meet friends for memorable get-togethers
Services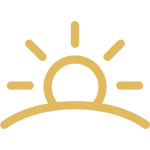 Health and Wellness Navigation
The Delaney is committed to offering a holistic approach to your total health and well-being.
We provide a highly trained Senior Health and Wellness Navigation team, who work personally with you to anticipate your health and wellness needs and address them. They'll guide you through the many programs, services and amenities we offer that focus on all eight Dimensions of Wellness to ensure your overall physical, psychological and social well-being. Our Navigation team will also help guide you through any medical challenges that may lie ahead, offering assistance with:
Preparation and follow-up for outpatient or hospital care
Coordination of appointments and arrangement of transportation
Coordination of post-acute care or in-residence wellness checks and the delivery of specific nutritional meals
Transitioning you to higher levels of care whenever you may need it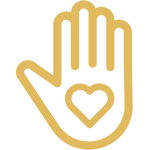 Personal Services
At The Delaney, we know that the way we provide our services is just as important as the services themselves.
That's why everything starts with Extraordinary Impressions®—our culture of gracious hospitality and service—which ensures that each interaction with you and your family is meaningful and memorable. Below are some of the personal services we provide:
Convenient transportation to a wide variety of scheduled events and outings
Emergency response system, providing personal safety and peace of mind
Pet-friendly campus
Cleaning services every two weeks
Staffing around-the-clock, so whenever you need us, we're here to help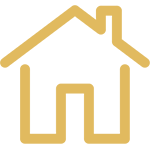 Residential Services
When you choose independent living at The Delaney, the only things you'll be giving up are the things that slow you down, hold you back and keep you from living your very best retirement life.
These are just some of the residential services we take care of, so you don't have to:
Prompt and complete maintenance of your apartment home, including all appliances supplied by The Delaney
Meticulous lawn care and grounds maintenance ensuring The Delaney will always look beautiful and inviting year-round for you and your visitors
24/7 staffing
Dining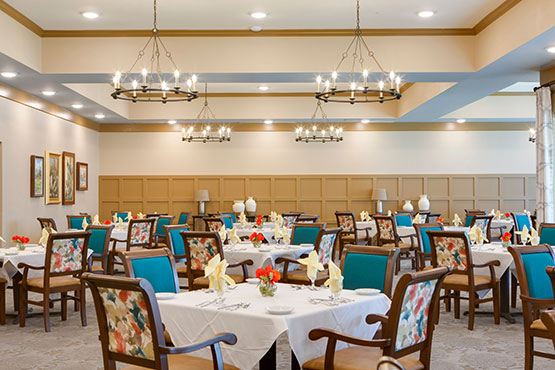 A delightful, full service, restaurant-style experience every day. Delicious, healthy variety of fresh, chef-prepared dishes from an eclectic menu that ranges from gourmet cuisine to bistro favorites.
And a program that lets you decide where and when you enjoy your meals.
That's dining at The Delaney, and it doesn't get any better! Our Preferred Choice Dining™ monthly meal credits program gives you the freedom and flexibility to use your credits any way you wish —breakfast, lunch, dinner—or even to treat your guests. It's specifically designed so that you can eat the way you want to eat, and to enjoy the experience so that you can be you.
Floor Plans & Pricing
Your beautiful new apartment home has everything you will need, with contemporary layouts designed with you in mind. Each apartment has a bright, sunny interior, smartly equipped kitchen, washer and dryer, and, yes, lots of storage, with large walk-in closets for easy organization. Every residence also includes an emergency response system for your peace of mind.
Of course, pets are always welcome too!
View our pricing and take a look at our comfortable, spacious studio, one- and two-bedroom floor plans to see which one is right for you.
View Our Floor Plans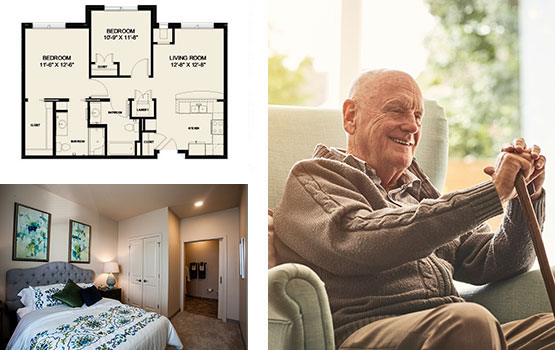 FAQs
What is an independent living community?
An independent living community is the perfect place for active seniors who are able to enjoy an active life and want the total freedom of a carefree retirement lifestyle. Home maintenance and yard work become a thing of the past, and the community provides a wide range of services and amenities—including dining, a full calendar of social opportunities and entertainment, transportation, cleaning, health and wellness activities, security and more--so residents can truly live the lives they want to live.
Will I have freedom and the ability to stay connected with my family, community and friends?
Yes! At The Delaney, our
Life
STYLE Promise® guarantees that you always have choice, flexibility and control over everything you do. Here, you can truly be you. You'll have the freedom to stay connected to the area and be close to the ones you love, while at the same time enjoying all the advantages of residing in a friendly and welcoming senior living community that nourishes your well-being and supports the interests and passions that bring meaning to your life.
What's it like to move into a retirement community?
Sometimes people think that moving into a retirement community means they'll have to give something up. The truth is, the only things you'll be giving up are the things that slow you down, hold you back and keep you from living your very best retirement life. The Delaney offers a wide variety of premier services and amenities—lawn care; grounds maintenance; complete maintenance of your residence; chef-prepared, restaurant style dining; a full calendar of social, recreational and educational activities; health, wellness and fitness opportunities and guidance; transportation; round-the-clock security; and lots more. Not to mention, it's just a fun place to be! Ask the residents of The Delaney, and we're pretty sure they'll tell you, moving into a retirement community was one of the best decisions they ever made.
Do you allow pets?
Yes! The Delaney is a pet friendly community. We know that "you just wouldn't be you" without your beloved pets. They're like members of your family, and here, family is always welcome!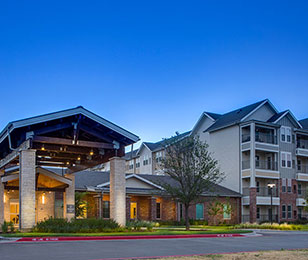 Come by for a visit and see for yourself why The Delaney at Lake Waco is the perfect place for you to live
the life you want to live!